Websites
I have spent some time developing websites with different groups. Here are some of the projects that I have lead or collaborated on:
environmentandmedia.com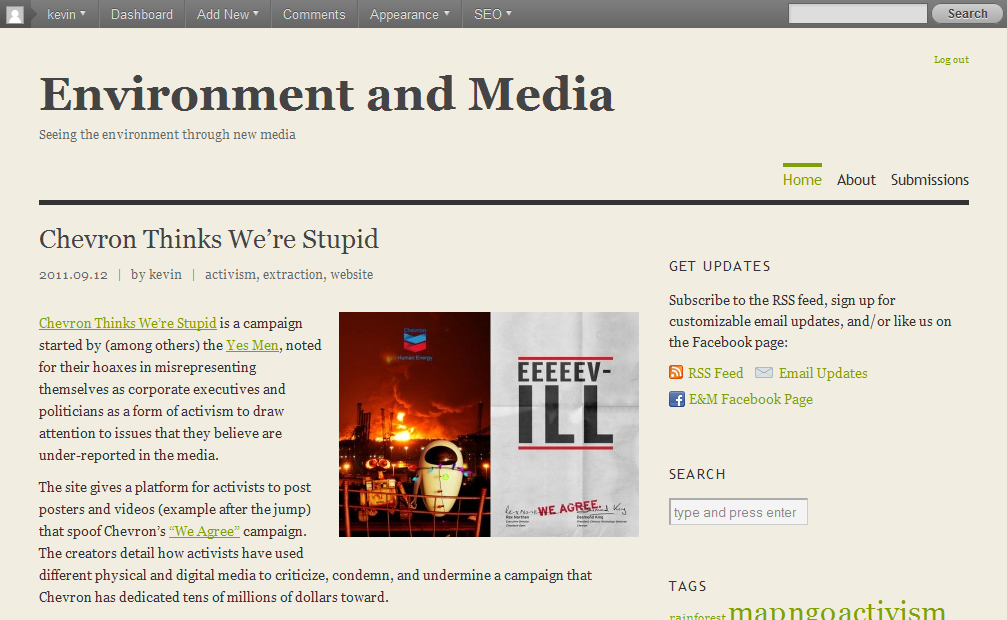 I designed environmentandmedia.com to be a place to post interesting representations of the environment in digital media. The site is also associated (at least initially) with a class that I am teaching title "New Media for Environmental Communication." Students of the class and other will contribute to the site to develop a resource that will be useful and interesting for people who are interested in how the environment is represented in new media.
elohimchildren.org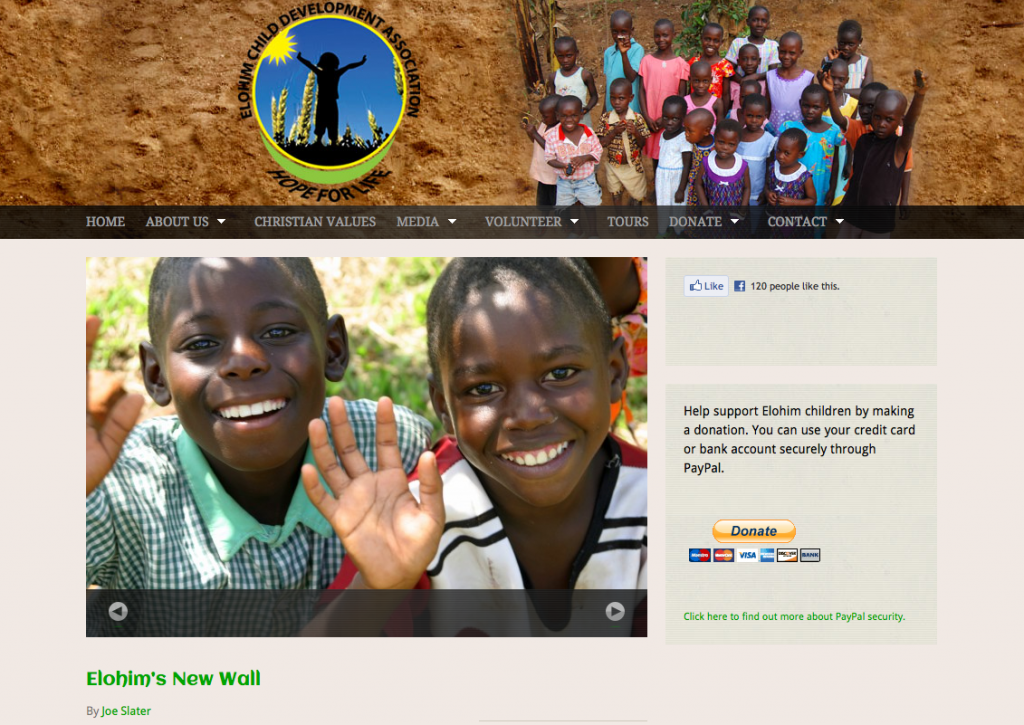 Elohim Child Development Association provides for the basic needs of some orphaned children in Bombo, Uganda. I met Elohim's directors in 2010 during a music and dance presentation that they and the children were giving. I continue to be impressed by their dedication and the service that they provide for their children and the surrounding community. I developed a WordPress site to give a better face of the organization, allow directors and volunteers to make regular posts about progress, and accept donations and start campaigns.
designlabspace.com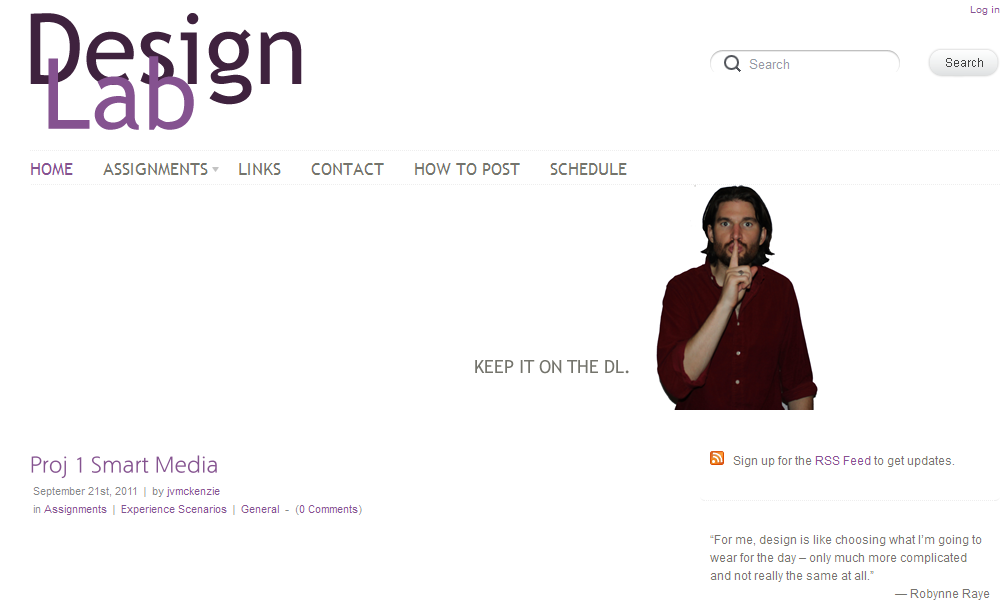 I have an appointment with the DesignLab, a UW-Madison project which will serve as a space for undergraduate students to receive consultations about digital work, as well as a resource for faculty who want to incorporate digital media projects into their courses. We needed a site to post projects and start to accumulate resources for DesignLab once it is up and running. designlabspace.com is a WordPress site that allows the various participants in the workshop to post assignments, add quotes, and display their digital media projects.
madisoncommunity.coop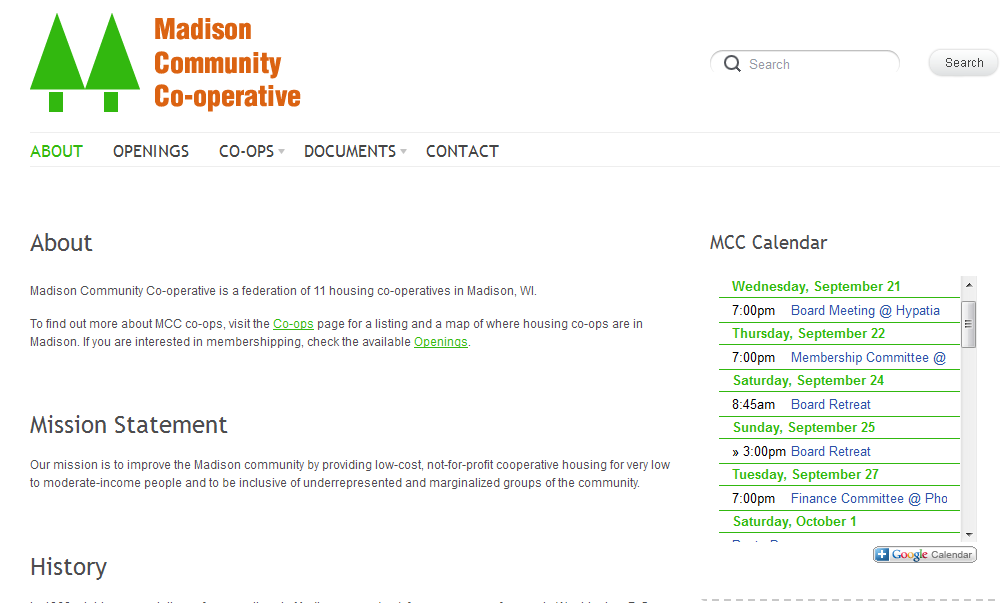 We are currently overhauling the Madison Community Co-operative website, which had not been altered significantly for 5-10 years. I have been coordinating a group of people to gather content and work with web developers to build a Drupal site that will incorporate the ability to display important information about room openings (which are often in flux) and search for organizational documents (of which there are many). We put up an interim WordPress site to begin to acquire content for the pages and to improve upon the old site while we redesign the organization's logo and the infrastructure of our site.
wicci.wisc.edu
My first project as a web consultant was the Wisconsin Initiative on Climate Change Impacts (WICCI) website. WICCI works on climate change adaptation in Wisconsin. I was appointed with the organization and tasked with working with designers to build a website. The website tries to help users answer the three main questions that the organization is working on: "How is Wisconsin's climate changing?", "What are the potential impacts?", and "What are Wisconsin's possible adaptation strategies?" The design also has a "Resources" section that is used by the many collaborators in the project to post and exchange documents.
hypatiacoop.org
I currently live at Hypatia Co-operative House in Madison, WI. I put together a simple WordPress site for two reasons (1) to let people outside of the house learn more about it and how to membership and (2) to give house residents a forum to make posts about cooking adventures, projects, discussions about living cooperatively, house history, etc.
sloopjohn.tumblr.com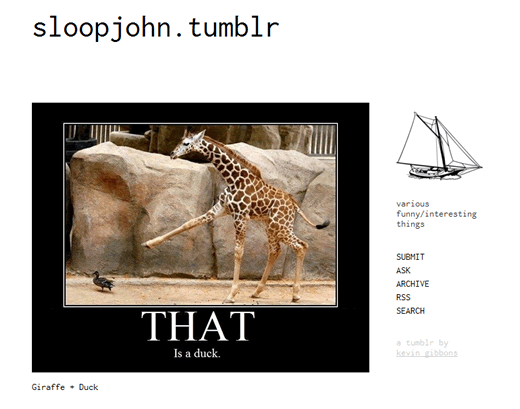 sloopjohn is a tumblr blog that I use to post various funny/interesting things that I find around the internet.